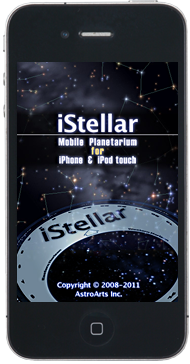 Go stargazing wherever and whenever you like with iStellar!
iStellar is planetarium software by which you can simulate the starry sky anytime and anywhere. Its touch interface provides smooth operation for full enjoyment of the beautiful starry sky.
Nov. 24, 2015: Version 2.8.2 RELEASED
Modifications since Ver.2.7.5
Fixed a potential crash at startup that could occur with iOS 9.
Added display of 'Hayabusa 2'.
Fixed an error with iOS 7 where the display turns upside down when sensor synchronization starts in landscape mode.
Modified the Location Setting screen.
On/off of "Enable Compass" takes effect after restarting the app.
Calibration is not performed when the compass is disabled.
Correct rise/set times of the planets in the Object Information.